Volunteers are needed for both centers at Tompkins and Tioga.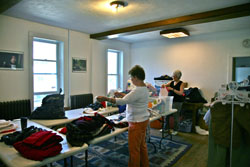 We seek volunteers who are interested in providing friendly and dignified service to those who come for our help. We are very interested in people with strong communication skills and the ability to maintain confidentiality. As a volunteer you can serve as a receptionist, office assistant, computer aide or clothing closet worker.
Many programs need volunteers. We welcome the opportunity to discuss possibilities with you. If you would like to help, please call Michaela Cortright at 607-272-5062 ext. 17 or email.